Click Shopping Cart to View Your Cart
BLACK FRATERNITY & SORORITY WHOLESALE ART PLAQUES WITH STANDS
& OPTIONAL HOOK ON BACK FOR WALL HANGING
EACH PLAQUE COMES WITH A BOX
REGULAR $15.00

TO PLACE AN ORDER
This page contains an online order form. Once your request is received by us, we will reply to you by email with a copy of your order within 24 hours. You can also call 1-800-552-0377 or fax 1-888-293-3324 to place your order. Our email address is greek@debisordinarypeople.com. If you prefer to snail mail your order, send it to:
Debi's Ordinary People
PO Box 501
Riverdale, MD 20738-0501


We accept Discover, Master Card, American Express, and Visa ; and COD money orders payable to
Debi's Ordinary People
Please allow 2 to 5 days for shipment of in-stock merchandise orders.
---
Payment Terms and Conditions of Sale
1. Minimum Order $75.00
2. We accept the major credit cards and COD Money Order.
3. There is a 5% Discount on Non-Discounted/Sale product orders of $500 or more.
4. A $25 bank charge is assessed for all returned checks.
5. All shipping claims must be made within 5 working days and returns allowed only with prior authorization.
6. Returns or refused packages are subject to a 15% restocking fee.
7. Notification of any invoicing discrepancies must be done within 5 working days of delivery.
8. Pricing, design updates, and product availability are subject to change with prior notification.
9. Size and color variations may occur within an order from order to order, but within reason.
10. Debi's Ordinary People will not be liable for delays or non-performance as a result of events that are beyond our control.
---
P01 Alpha Kappa Alpha Crest Plaque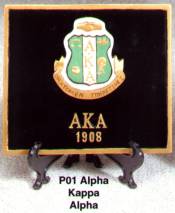 P13 AKA Pearl Leaf Plaque
P04 Omega Psi Phi Crest Plaque (OUT OF STOCK)
P05 Kappa Alpha Psi Crest Plaque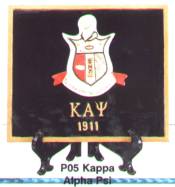 P06 Alpha Phi Alpha Crest Plaque



P19 Alpha Phi Alpha Sphinx Plaque

P07 Zeta Phi Beta Crest Plaque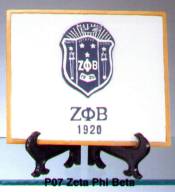 P15 Zeta Phi Beta Dove Plaque
P20 Phi Beta Sigma Dove Plaque

P10 Iota Phi Theta Crest Plaque (OUT OF STOCK)
P12 Mason Plaque (Generic)

---